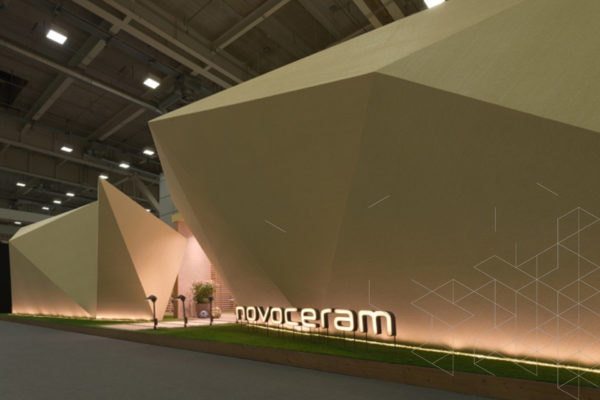 Exhibition Stand Design and Exhibition booth Novoceram Cersaie 2017
Novoceram, a French ceramic manufacturer since 1863, designed and constructed an exhibit booth inspired by an origami scheme dynamic lines. At Cersaie 2017, the International Ceramic and Bathroom Tile Exhibition was held in Bologna, Italy.
Exhibition Stand Design Origami has a force that reflects the philosophy of the Novoceram values, so that the raw material is to the sculpture and poetic work that needs patience, precision and skill.
The Origami Exhibition Stand Design, which was executed by Francesco Catalano, is purely embraced with rhythmic, intelligible and harmonious lines, in the heart of the Exhibition Stand Design of visitors, including other things, the statue of sculpture used in the sand.
From the conversion of paper to origami from ground to ceramic, Novoceram Company offers its 2017 product collections:
So that the tile products in the Exhibition Stand Design have been used creatively. It used a minimalist design in the Exhibition Stand.
See our Instagram page for more information on this exhibit booth.
Ceramic tile exhibition of Italy Cersaie
Ceramic Tile Exhibition Stand Design of Cersaie is held in Bologna, Italy.
Cersaie Exhibition in Italy Bologna is one of the leading trade show for the building industry and bathroom equipment.
This exhibition is one of the most important events for the activists of this ceramic and tile industry. It is the place where the latest services and products are displayed, and the other benefits of the exhibition are the use of new technologies and new solutions in the exhibition.
The main part of the exhibition is aimed at displaying products and businesses including ceramic tiles, sanitary facilities, bath equipment, fireplaces, ceramic rocks, kitchen tiles, raw materials and ceramic equipment, materials and tools for the facility.
The construction of the Exhibition Stand Design at the fair is due to the fact that the tile and ceramic equipment are the necessary tools for interior design and construction and architecture and building.
Activists and participants of the exhibition are owners of business such as floor and wall ceramics and raw materials and equipment for production, ceramic stoves, kitchen tiles, ceramic and non-ceramic flooring and walls, fireplaces, equipment and furniture, services and baths. Tools and materials for the installation of ceramic products, sanitary and toilet facilities and baths