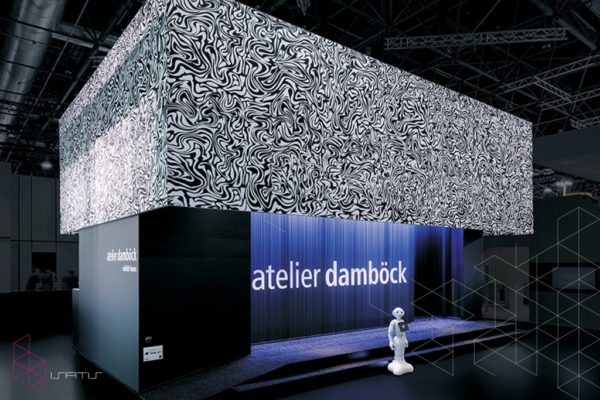 Atelier Damboeck Design Booth Exhibition at EuroShop 2017 – Dusseldorf, Germany
Design booth Exhibition at the International Specialized Exhibition of Retail Industry - The EuroShop 2017 product was awarded the Best Exhibit Award.
At first glance, visitors could not see the exhibition inside the booth.
The entrances to the booth were almost completely enclosed. Entry into the cascade was only possible after entering.
The booth designer intended not only to attract visitors but also to exclude competitors and inappropriate visitors from their booth. So it used the idea of a waterfall in Verdi's booth. Customers invited to escort employees were taken to the umbrella of the cascade.
This was the only way to control the entrance of the visitors into the booth as a natural filter. Entry into the booth was possible only with the escort of the Atelier personnel who had the entrance ticket to the booth and the ticket was an "umbrella".
Inside the space, the guests had a multistage experience. First with a three-dimensional glasses faced with a virtual reality that connected them to a vibrant forest scene in which magic trees grew in front of their eyes. Next, visitors arrived at the reception room, which was the 3D reconstruction of the VR scene. Regarding the strategic lighting, the theme-based forest wall graphics created a true sense of the real landscape by the plants, fresh smell and humidity, and sound of the birds.
One of the referees at the booth design fair said: "Using water as a core design element was a magical particular move." And this magical move has been well done, showing the booth experience that has never been seen at the World Expo. Not yet. "
Behind the cascade of VR stations to drown in the digital world. In this virtual reality, a view of the forest appeared in front of the viewer. The VR's display of "Entering the Real World" was over and what it could literally have been: creating a real forest environment with natural materials, waiting for visitors in the next space.
In this space, visitors gained an opportunity to experience live communication with a variety of senses. Special beverages and sweets were served against the backdrop of graphic walls and pictures of the forest. The black exterior of the pavilion made an insulated space inside the pavilion, where people could have conversations in a silent area away from the busy exposition.
In addition, a robot named Pepper was used as a customer in the communication area in front of the booth. Pepper had a short conversation with the visitor, a facial recognition, and was an example of the Manasquex Salafi.
The booth budget for this booth was estimated at between $ 80,000 and $ 149,000.
The booth design was implemented by Atelier Damböck Messebau GmbH. Which is also in the exhibition stand.
View the photo gallery of this booth on our Instagram page.