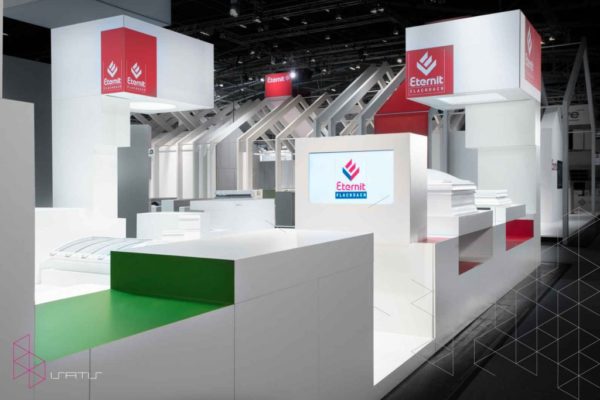 Exhibition booth at Eternit BAU2015 architecture and building industry exhibition
Eternit AG, a manufacturer of fiber cement products, at the BAU Architecture & Building Industry Exhibition, Munich, in 2015, received a Golden Statue Designer Award from the Jury.
The pavilion booth was designed in a pavilion area of 385 square meters.
With walls and ceilings resembling thin slices of bread cut that reflect light beams in the exhibition booth in a beautiful way.
Inside the design of the booth, white and gray walls, like a canvas, showed good cement fiber products that were used on benches and stairs.
Also, because the structures and components inside the booth were a combination of these products, the designers of the booth opened the pallet to allocate more room to the hall itself.
The director of public relations at the company said that the sale of hybrid products in the construction of this booth allowed Eternit to allocate more room to the hall instead of displaying traditional products.
The red and green lines on the floor and the pavilion walls were created to show the paths and living room.
The use of mild colors in statues and statues in the pavilion designed them as the finest artwork for judges selecting the best booth.
Given the fact that the structure is expected to grow over the next five years and to show diversification, it's clear that the company's use of minimalist designs will have the maximum return on investment.
Munich Architecture and Construction Exhibition (BAU)
Munich's Architecture and Construction Industry Exhibition (BAU) is held annually in Munich, Germany.
Munich's Architecture and Construction Industry Exhibition (BAU) is a leading exhibition and exhibition in the field of architecture, machinery and materials in the construction industry in the world.
It brings together a space suitable for business, industry, and industry enthusiasts.
Some of its achievements can be seen in displaying the latest techniques, compositions and software applications that can be used in practice.
The Munich BAU exhibition, with the participation of the leading business of the industry, serves as a database and reference point for the use of the latest news and value added data for visitors to this industry.
Designed by zeissig