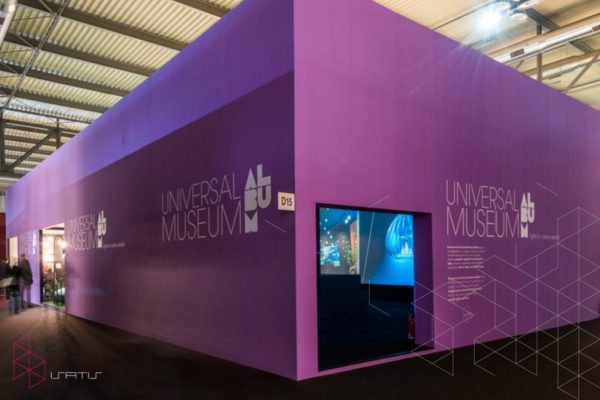 Introducing the world's best booths: Album company booth at Euroluce2015 – Milan, Italy
Euroluce is an international lighting exhibition that the album company created in 2015, a project designed to combine three different spaces.
The stall is designed in a minimalist style to provide a relaxing and enjoyable time for visitors to the exhibit booth.
Initially, every LED light, an artwork, is an image with its frame, in which the history and stages of the company's evolution have been expressed over the years.
In the second space, in the central booth area there are the latest products. But the third space was an ambitious project:
An environment in which 360-degree images were projected from the achievements made with the company's lights.
Pictures, sounds, lights that surround the visitor in an experience and can be recognized as a creative arena with a strong creative impact.
This exhibitor booth was used only for essential equipment, which does not seem to be very crowded. The stand exhibition has an interior space with walls of a tallite white and gray that shows the larger space.
The stall designer has been used for vivacity to live and enjoy the space, in the exterior of the enclosed booth.
The idea of green space and a stand-out with Greenwall and an in-the-palm floral array that is outfitted with the company's album products. All these points in the design and construction of an impressive booth exhibit created for the company Album Creation.
Milan Lighting Exhibition Italy Euroluce
This exhibition displays the latest lighting products from countries around the world and is considered as an outstanding event for displaying the latest products by lighting designers and other home appliances.
Due to the importance of lighting and the use of different innovations, the exhibition is held in Milan every two years. This exhibition is an invaluable tool for this industry.
Booth designers promote the quality level of the exhibition to promote the products at this exhibition by designing a booth of a creative, competitive exhibition.
This event was designed to advertise lighting fixtures, lamps and home appliances, beautiful and abstract lighting, which was designed on the Italian market for table tiles, wall mats and pendants, and Euroluce continues its highest quality to recognize the lighting equipment of Italy Around the globe. The result of this exhibition is the presence of half of the visitors from other parts of the world.
The stand was constructed by the exhibitor MASSIMO CAVANA LAB.
View the photo gallery of this booth on our Instagram page.