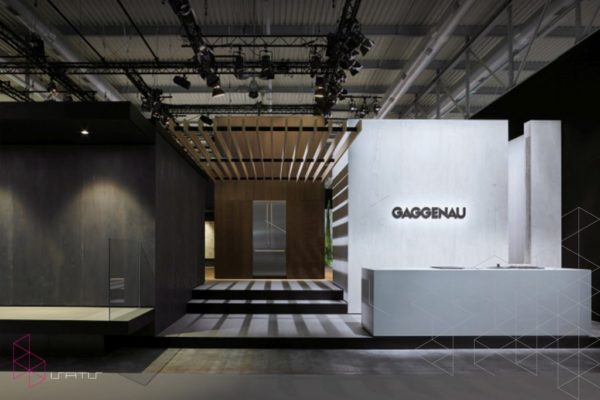 Exhibition Booth Gaggenau at Eurocucina 2018 Milan Italy
In this section, we tends to review the exhibition booth at the Eurocucina 2018, which won the Exhibition booth and design booth.
Italian Eurocucina Exhibition Italian Kitchen Appliances Showcase (EuroCucina) Manufacturers and Distributors of Luzam Kitchen brings together the industry from Italy and around the world. Which is welcomed by visitors from domestic and foreign buyers. Milan Kitchen Appliances Exhibition from the Kitchen Equipment & Decor, and International Bathroom Supplies Exhibition, Milan Furniture Exhibition will be held in the exhibition space of Milan. The exhibition presents new ideas and innovations with the most up-to-date and high-quality kitchen appliances, which are the reasons for attracting the audience to the exhibition.
The exhibitors are manufacturers of all types of kitchen, metal, lacquer, kitchen furniture, kitchen furniture accessories, publishing companies, magazines and business newspapers, associations and kitchen related business organizations. House-style exhibition stand "Gaggenau" Gaggenau Exhibition stand has announced its fifth participation at the 2018 EuroCucina Home Appliances Exhibition at the Milan Motor Show in the showroom of the Cellar Hall. The booth design concept was won by the 400 Vario Cooling Series. The long-term partnership with einszu33's architecture and Booth Company is managed by Hendrik Mouler and Greg Tierschach. The result of this collaboration is the "Gaggenau House": the architectural sections of this booth are consistent with the corporate culture of the company.
The house "Gaggenau" has created an ideal home space that focuses on an open-plan kitchen. The house consists of entrance, garage, living space and garden, all of which are interrelated and with appropriate materials, light and details. Visitors to the exhibit booth will experience the true identity of Gaggenau. Where the use of luxury and intelligent devices, by combining the culture of life and contemporary architecture, forms the final design of the pavilion. A unique designed house creates a powerful view. In addition, the interior and decor are carefully selected to reflect the brand's relationship with functionalism, natural and smart luxury. The full-fledged architecture, inspired by the new range and award-winning design, reflects the cultural affinity of the brand and provides a comprehensive stage for demonstrating the company's ability to bring the accessories beyond It has a kitchenette.
Use the top brands in the arena "This exhibition booth is particularly focused on the role of Gaggenau accessories and their importance in home culture," said Hendrik Moeller, einszu33's booth contractor. To complete the Gaggenau House, Gaggenau collaborated with a selection of prominent brands. The main sections are as part of the house: Aston Martin DB11; interior wood doors from Schotten & Hansen; modern furniture from Walter Knoll; installation of lighting from Occhio; a custom piece of Eduard Micus Edward Micos; a decorative chest of porro; French sculptures from Porzellan Manufaktur Nymphenburg and a selection of specialties from Sotheby's Wine.
Click here to view more Projects.
Designed by einszu33